Devonshire Park
Live in the Heart of West Transcona, in a Planned Community
Life's Better Here
If you and your family are ready for your "forever home", then step up into Devonshire Park, a cozy pocket of West Transcona that blends the heart of the area with nuanced community design, low-impact development, and creative home options for every stage of life.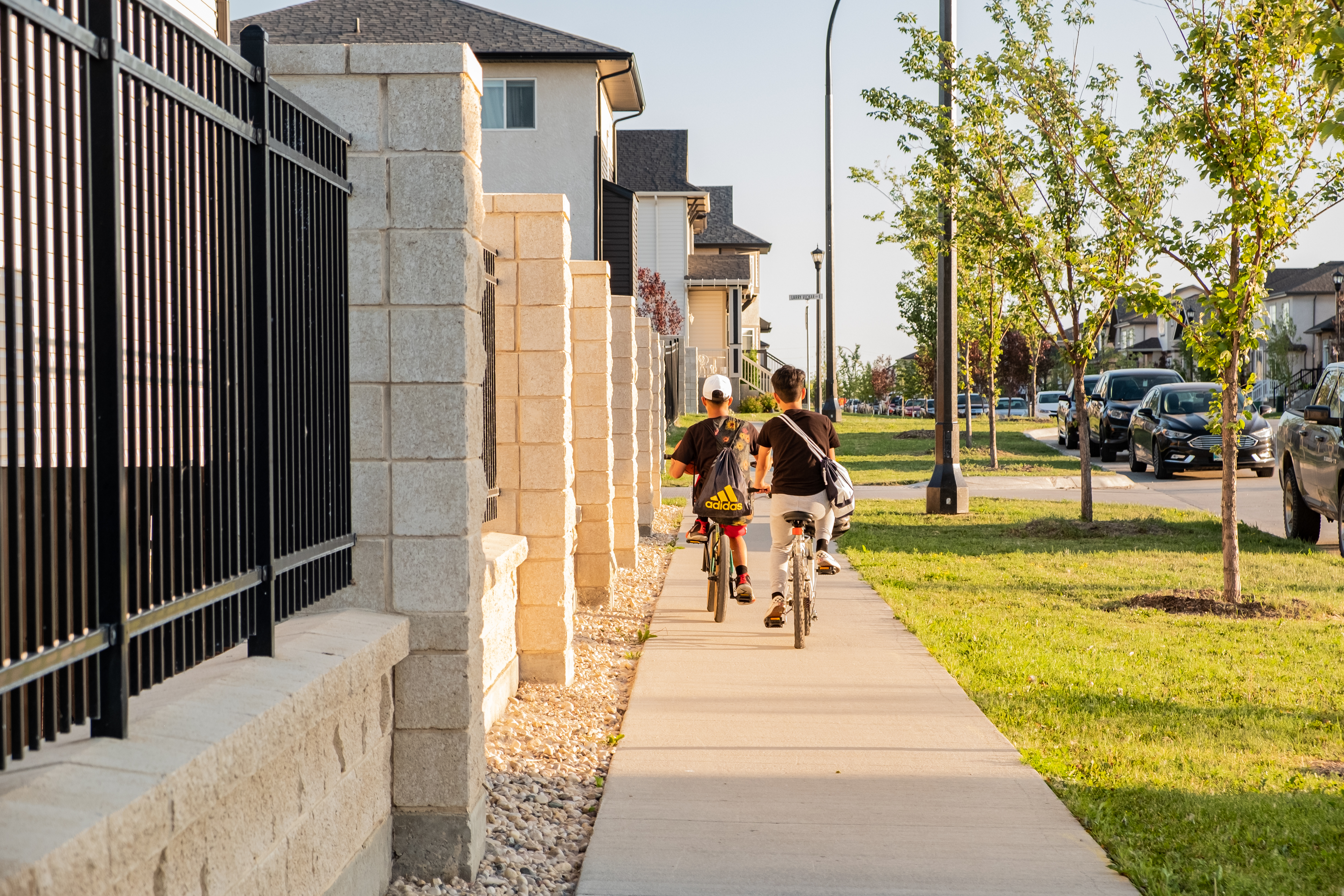 Devonshire Park's architectural vision transcends tradition by blending classic architectural styles with modern detailing. This is a neighbourhood for a variety of life stages, whether you're planning to start a family, already have a growing one, or are looking to retire comfortably. The road network has been meticulously designed to allow only local traffic through, making the streets safe and walkable for all.
If you're used to an active lifestyle, you'll find what you need in Devonshire Park. The community was designed to include active and passive transportation opportunities, so you and your family will be able to walk, run, or bike on interconnected multi-use pathways. Neighbouring Devonshire Village offers an off-leash dog park, so your furry friends can get their exercise as well.
Get Directions
Devonshire Park
Close to everything you love
Amenities
Being nestled in the heart of West Transcona means that Devonshire Park is close and connected to everything you need. Both Regent Avenue and Lagimodière Boulevard are nearby, giving you access to major transit routes, schools, shopping, and entertainment, while also letting you stay close to friends and loved ones.
Kildonan Place features more than 100 retailers, from clothing stores to restaurants, all within a 5-minute drive (or 30-minute walk!). The Crossroads Station Shopping Station, just across Regent Avenue from Kildonan Place, offers even more shopping opportunities, including many big-box retailers, restaurants, and other essentials.
Devonshire Park Map and Lots
Schools
and institutions
Public
Joseph Teres Elementary
Harold Hatcher Elementary
Arthur Day Middle School
Murdock Mackay Collegiate
Transcona Collegiate
River East Transcona School Division
Phone: (204) 667-7130
Devonshire Park
Community
Documents
Whether you're interested in buying a home in Devonshire Park or already have, this is a great place to get some of the basic information about community guidelines that may apply to your lot depending on the phase your home resides in. From information about our community maps and marketing information about community amenities available to your home, this page will serve as a good source of information for everything from architectural guidelines, how to submit your plans and any restrictive covenants that may apply to your phase (for example, fencing). Should you have any questions that aren't addressed here, please contact the Genstar office for further details at 204-488-6537.