Carrington
Live in the Heart of Calgary's Northwest With Mountain Views
Live on the Brighter Side of the Street!
A walkable community featuring English Carriage House-inspired architecture with modern detailing. Complement the beautiful homes with expansive mountain views and winding pathways and you have everything you love about the Northwest in a new, contemporary package.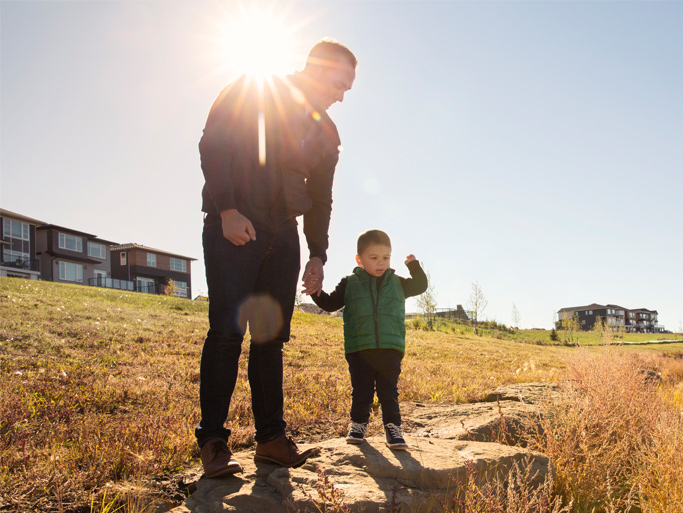 Carrington is conveniently located at Centre Street and Stoney Trail NW. Direct access to Stoney Trail makes a trip downtown or a weekend escape to the mountains quick and easy. Sloping lands bring sunshine and beautiful views.
With townhomes, duplexes and single family homes, Carrington is a great opportunity to buy new in the Northwest. Genstar brings best practices in sustainable design and more than 65 years of experience to Carrington.
Get Directions
Carrington
Complement the beautiful homes with expansive mountain views to the west
Amenities
A re-naturalized wetland includes a walking path and lookouts facing the Rockies. A future school site and commercial centre will put education, restaurants, shops and employment opportunities at residents' doorsteps. The future Green Line will connect Carrington to the city centre and beyond.
Schools
and institutions
Public
Fish Creek School (K-6)
Sundance School (K-6, French)
Midsun School (7-9)
Fairview School (7-9, French)
Dr. E. P. Scarlett Senior High (10-12, French)
Calgary (Public) Board of Education
Phone: (403) 817-4000
Catholic
St. Sebastian (K-6)
Mother Teresa of Calcutta (K-6, French)
Father James Whelihan (K-9)
St. Matthew (K-9, French)
Senior Bishop O'Byrne (10-12)
Calgary Catholic School Board
Phone: (403) 500-2000
Carrington
Community
Documents
Whether you're interested in buying a home in Carrington or already have, this is a great place to get some of the basic information about community guidelines that may apply to your lot depending on the phase your home resides in. From information about our Tree Planting Program to community maps and marketing information about community amenities available to your home, this page will serve as a good source of information for everything from architectural guidelines, how to submit your plans and any restrictive covenants that may apply to your phase (for example, fencing). Should you have any questions that aren't addressed here, please contact the Genstar office for further details at 403-256-4000.
Award winning communities, built for life.
In 2022's Battle of the Burbs conducted by CBC Calgary, Calgarians voted on which suburb is the best in the city. 6 Genstar communities finished top 2 in their quadrant.
Chaparral

Coventry Hills

Evanston

Oakridge

Silver Springs
When you buy a home in a Genstar community, you're getting Genstar's commitment to ongoing excellence.